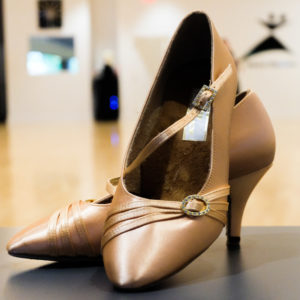 How to Choose a Pair of Dance Shoes
Brief Guide for the First Time Buyers
A good pair of dance shoes can be your ticket to building dance confidence from your first step on the dance floor. Don't let your first dance be anything except an unforgettable experience. Consider these helpful tips when choosing the best pair of shoes for you!
Whether you are in the market for Standard, Latin, or Practice shoes, prices can vary from $30 to $300. Dance shoes also can vary in appearance from open to closed toe based on personal preference.
Shoe Size
Dance shoes typically advertise in European sizes so it is important to try on your shoes in person or have a flexible return policy if purchasing online. Check those size charts!! Shoes should fit nice and snug, but not too tight. Shoes tend to give ever so slightly so make sure they don't fit loosely from the start!
Heel Height
Dance shoes vary in heel height. While men's shoes come at a standard 1″ heel, women's can range anywhere from 1″ to 2 1/2″. Children should start with flats and progress into a 1″ heel. We recommend smaller heels for beginners of any age.
Materials
Dance shoes are made from smooth leather, suede, satin, lycra, patent leather, etc. Make sure your dance shoes have a soft suede sole to ensure smooth dancing and protecting the delicate dance floors. No metal heels, tap shoes, or stilettos should be worn in the ballrooms. Ladies' shoe heel tip should be made from non-marking plastic, suede, or silicone. Gentlemen's shoe heel should be finished with suede or smooth leather. Nails in the heel usually indicate poor quality of manufacturing or improper repair of the shoe.
Heel Guards
Heel guards are silicone or clear soft polymer heel tips. Those are an important accessory to ladies' dance shoes. Heel guards will protect and prevent you from sliding or slipping on the edge of your heel in an uncontrolled manner so you can focus on the dance rather than be concerned about your safety!
Where to Buy
If you would like to try and find the best fit – the most convenient location for Dance Harmony students is Showtime store in Duluth. If you already know what you are going to buy – go online! Please use a promo code "DanceHarmony" to get 10% off.  Another popular online store is danceshopper.com. Today's leading shoe brands are International, Supadance, and Ray Rose.